Webstagram
The webstagram is a popular website that was used to search and analyze profiles. But the original webstagram available at https://web.stagram.com/ is no longer is available. But now there are two sites named webstagram, which are different in UI. The first one, https://www.webstagramsite.com/, is a clone of pikdo online. It is near as same as pikdo. First, you will see a search option where you can search for Instagram username or tags. It also contains the same country-wise top list and list of top accounts on Instagram. You will also see popular Instagram hashtags and profiles below there. You may find some of profile or hashtag that you wanted to search. I searched for lisa ann instagram and below is the screenshot.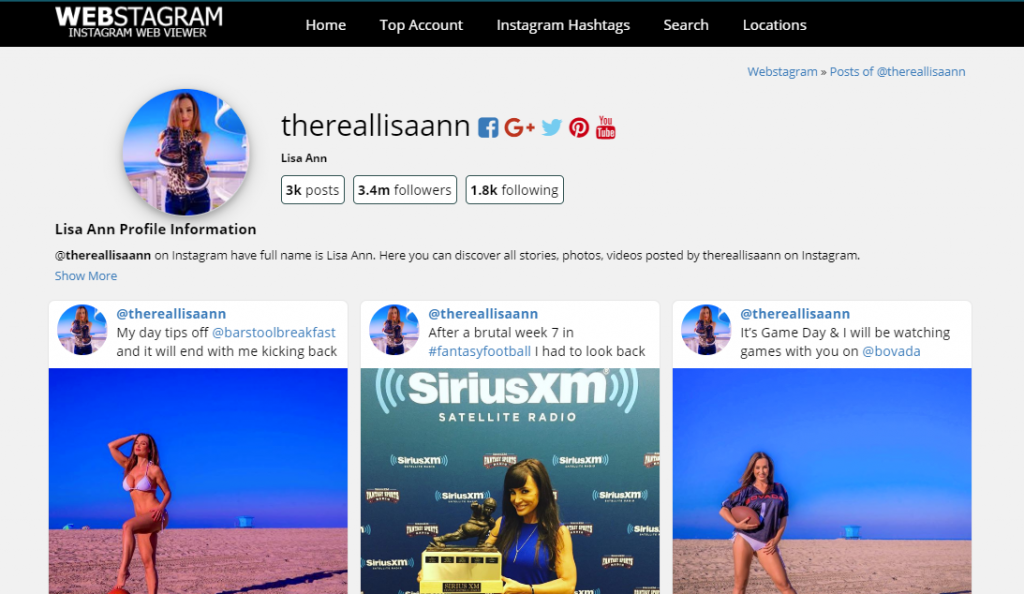 Another webstagram login site is available under https://webstagram.org/ and is super modern in the user interface. It is a service where you can check info about your Instagram account every day with the latest updates as well as track accounts. It is more feature-packed than any other on the list. The reports generated in webstagram login have engagement, average likes and average comments. There are various sections, such as Statistics summary, Account Stats Summary, Average Engagement Rate Chart, Future Projections, Top posts, Media stats summary, etc. To use these features, you have to use the register function; however, pricing is not mentioned on the website. In this better version of webstagram i searched Alexis Texas Instagram and below is the screenshot.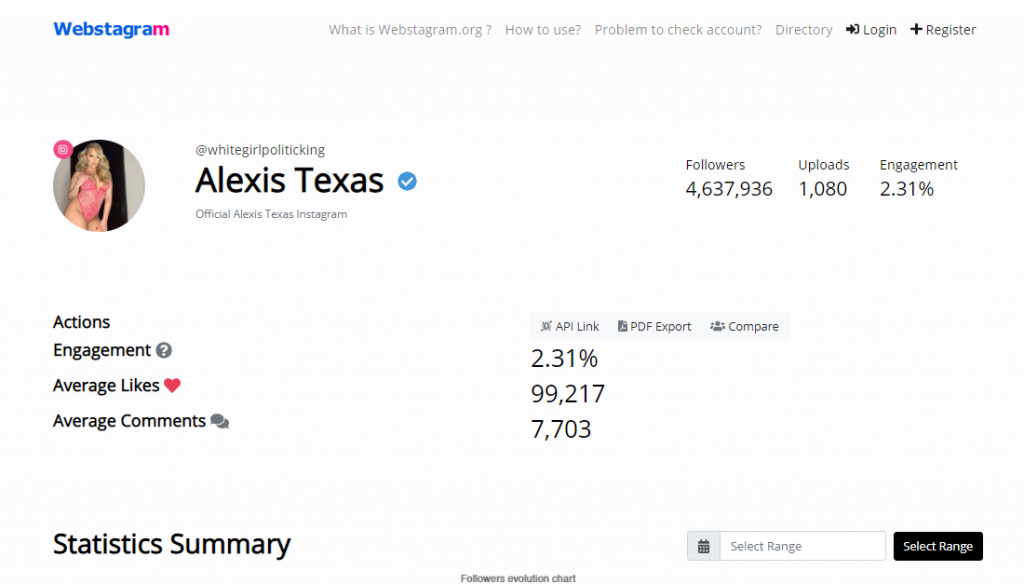 Instagram Web Viewer
Instagram is a popular app owned by Facebook. The popularity of Instagram in the present generation is at its peak. People follow their favourite celebrity, friends and hobbies on Instagram. The app environment is clean, which lures many users to the platform. But for casual uses when you are on a desktop, the support is limited as well as the functionality. Any you cannot see stats of other users with logging in. So for this purpose, third-party Instagram web viewer comes into play. Instagram Web Viewer that you could without problems browse users, followers, hashtags, popular content, facts and plenty extra. Other than anonymous stalking and feature-rich user tracking with daily reports have been a worthy feature of such Instagram com web clients. The list includes webstagram, pictame pikdo and 10 thers instagram web viewers.
There are many third-party Instagram Web Viewer. Some of the top listed are:
Picbear:
What is Picbear?
Picbear is an online Instagram Viewer that you can easily browse users without an Instagram app. We can see the location, followers, hashtags, popular content, statistics and much more. It also supports Instagram com stories so you can view Instagram stories also in your web browser. Picbear Instagram web viewer is available on http://picbear.com/. After opening this Instagram web viewer, you will see the interface like the picture below. I searched sophie brussaux instagram on picbear.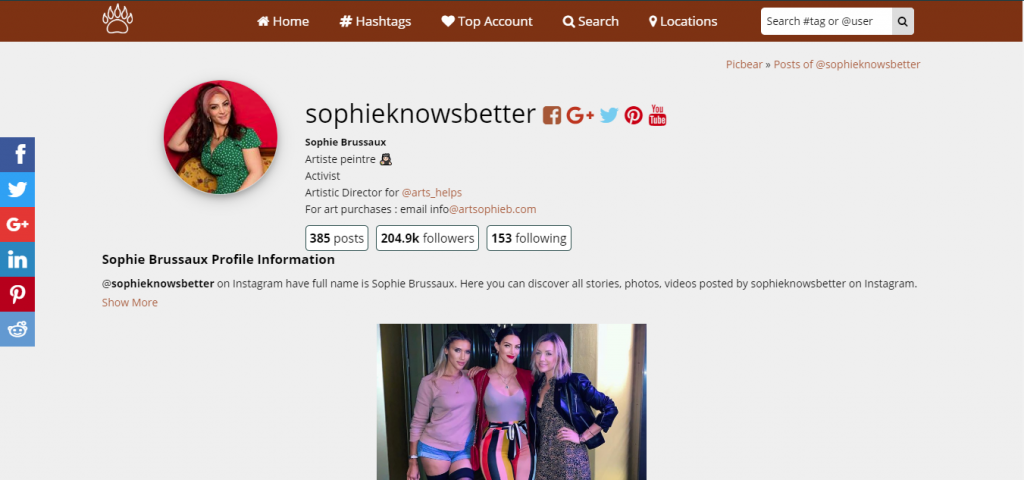 Is Picbear available online?
Yes, Picbear is available online. You can visit here at http://picbear.com/. Picbear online is the web-supported Instagram viewer.
Is Picbear safe?
Picbear is safe as you don't have to submit your personal information. You can anonymously visit the profiles.
Does Picbear has an app?
Until now, Picbear is available in the online version only.
The user interface of Picbear is very intuitive. You can search by @user and by using the hashtag. After you search for anything, you will see your results for your search. The upper portion of the result consists of the results of tags. While the below part of the result shows users that are similar to the keyword you typed, if you don't search for anything, you can navigate from the homepage. The Instagram Lists section has a category such as Youtube Star, TV Actress, Pop Singer, Model, TV Actor, Instagram Star, Soccer Player, Reality Star, Actress, Actor, Movie Actress, Movie Actor as of now.
Below this, there is a section where you can have Instagram feeds based on Hashtags such as #travel, #food, #fashion, #pet, #car, #football etc. You can click on a particular user or tag that you wanted to see.
The next portion lists Popular Instagram Accounts that are generally trending on top. But you cannot log in and save the search results and history. It is suitable to stalk someone on Instagram anonymously.
Watch Tutorial video on "How To Use Instagram Web Viewer on Your PC":
Pictame:
Pictame is another free yet popular Instagram online tool. The user interface is not such modern thanks to its sky blue and grey UI with minimal information compared to others. Pictame is a great tool when it comes to analyzing Instagram accounts instantly. The analysis part is backed by Pictame own analysis algorithm, which is developed inhouse. With this tool, you can see your profile strength and how much you have used the Instagram platform for engagement. The interaction rates, profile strength and other metrics are gauged by Instagram media scoring service.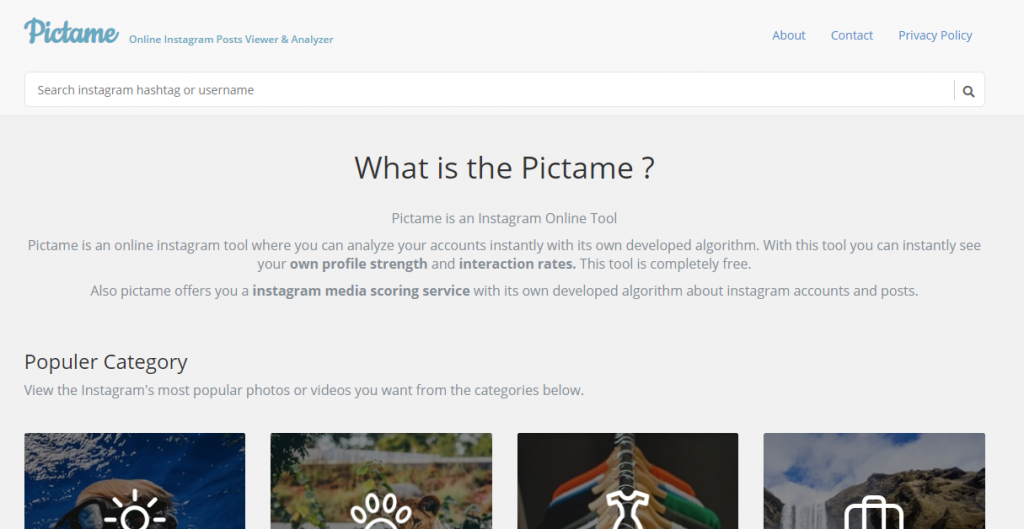 Like picbear pictame also boasts a section where it lists popular categories such as animal, fashion, holidays, Travel, work, etc. Below is the card carousel that shows the trending Instagram accounts globally. And finally, in the last section, there is a popular Instagram hashtags section, which is a neat feature like twitter and helps you get along the latest global trends in the form of hashtags.
The site occasionally gets down when you search for usernames. So you can use another alternative if it is down.
Link: https://www.pictame.com/
Can you see who views your Pictame?
Pictame is a third-party Instagram viewer that helps to browse anonymously. It's an Instagram restriction that doesn't let you who viewed your Pictame. So you cannot see who saw your Instagram with pictame.
Pikdo
Pikdo is similar to pictame and picbear. Its UI is personally better for me as compared to pictame. It has a huge search bar to search for users and tags. Below it, there is a section with more tags compared to the above third-party Instagram web viewers. Pikdo is more for general uses as it doesn't contain a part where popular users and celebrities are shown. It is more like a user-driven community. The later section is termed as popular photos where the photos of users' posts are displayed. So apart from stalking someone on Instagram, you can use the site to boost your Instagram profile by posting here. In the top corner, you can choose top accounts where the country-wise information can be viewed. It would be more reachable if this feature were available on the main page.
Compared to others, Pikdo is my personal favourite Instagram web viewer.I searched MIley cyrus instagram and it looks like below: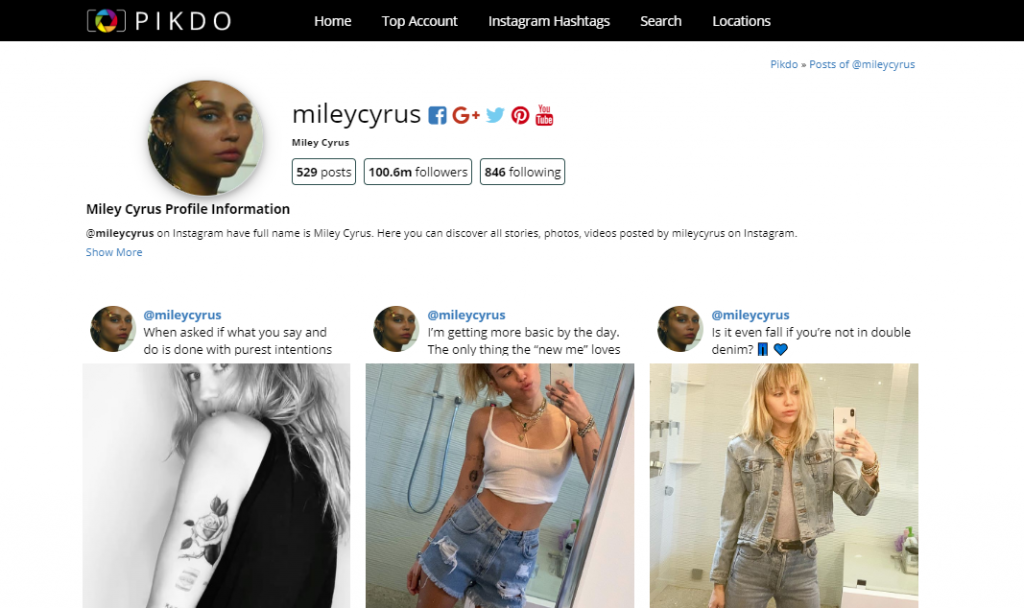 Link: https://www.pikdo.online/
Some capabilities are View photos & videos, like photos & videos, post comments, popular photos & videos, photos of you, and follow or unfollow people. Also, you can search for users and hashtags.
After you search for anything, you will see similar related tags and Users on the same page. You need to scroll down for Users. You can also check popular accounts on Instagram from the web viewer.
Yooying
Yooing is a modern and straightforward Instagram web viewer. The homepage has what's hot section, and below which there are popular posts from Instagram and is endless. The more you scroll, the results will add up. The upper part in the header contains discover and inspirations links and tags that include love, instagood, beautiful etc. Yooing picks the most popular hashtag and engaging users and helps marketers understand their Instagram community, better engage with their followers and find new potential fans on Instagram.The user search is not functional. When i searched lana rhoades it showed me list and the links open in instagram.

Link: http://yooying.com/
webstaonl
The extension of this site is onl. It is another third-party Instagram viewer with similar functionalities like Yooing, but I feel its less feature-rich. It doesn't show many navigation links, which is useful if you are a minimal person. And almost all of the things depend on searching.It shows popular photos on the homepage, but it's very few posts. And when you search user you are returned with 404 error. Its no longer maintained and might be a homepage clone of other instagram web viewer.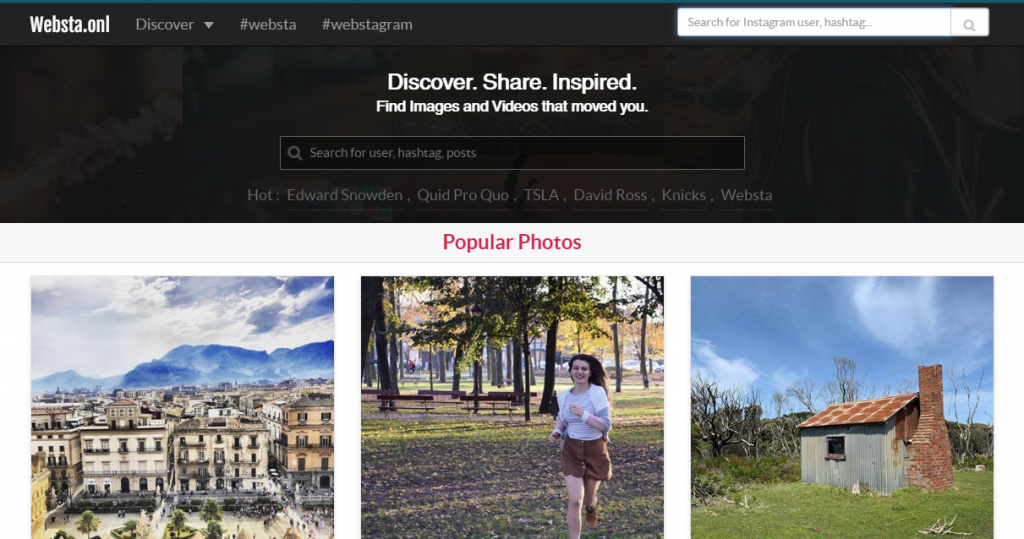 Link: https://www.websta.onl/
Imgtagram
Imgtagram is very minimal. It roughly contains some features like downloading media, and all operations depend on search. On searching, it shows general followers info, username, id etc. and posts grid. The ads in posts grid make it looks irregular. It also suffers same problem. For test purpose i searched angela white instagram but it shows 404 error when i clicked the users from search result. So you might not use it.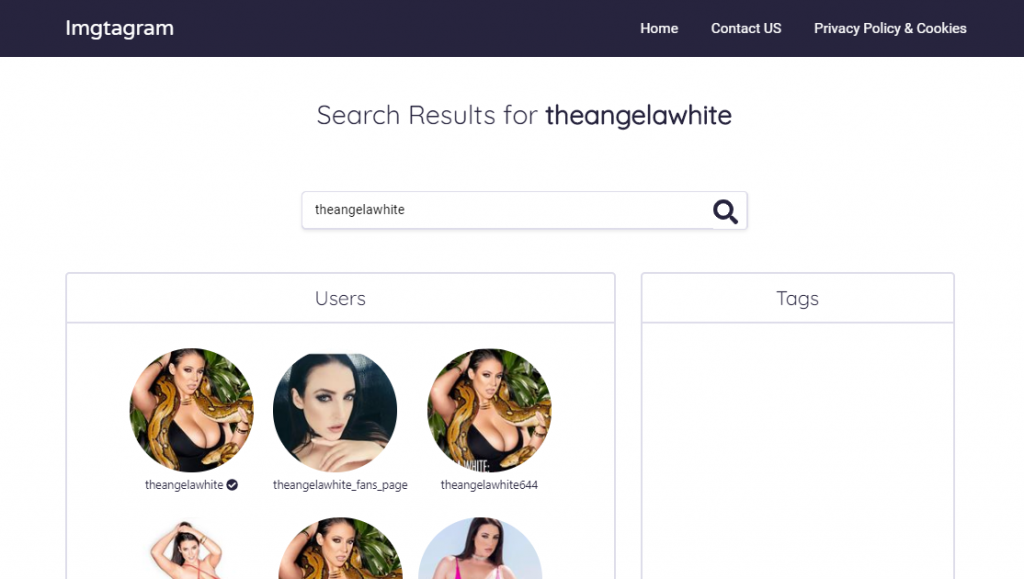 Link: https://imgtagram.com/
Picpanter
Picpanter is yet another beautiful and colourful Instagram viewer. Its vibrant design on the homepage lists popular media in the world as well as links to top accounts that are based on user location. So if you are planning to get stats of popular users in a particular area, you might go for this Instagram web viewer. The header links popular insta models, users and tag. It is also one of the favourites to view Instagram without the Instagram app.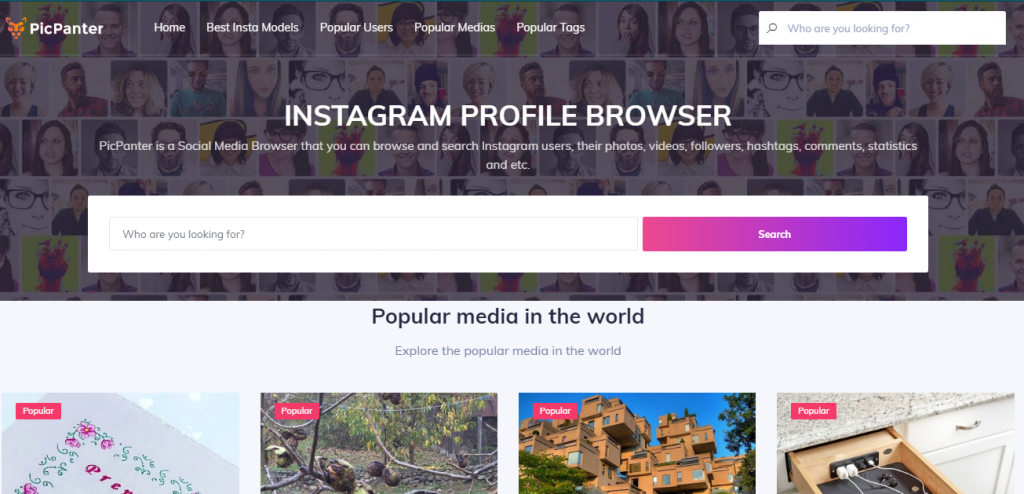 Link: http://www.picpanter.com/
Mesimger
This site is almost a copy cat of Imgtagram. I can't tell who copied whom, but the sites are near identical with some colour and little UI tweaks. So expect features that are similar to Imgtagram. I searched for mia khlaifa instagram and below is the screenshot.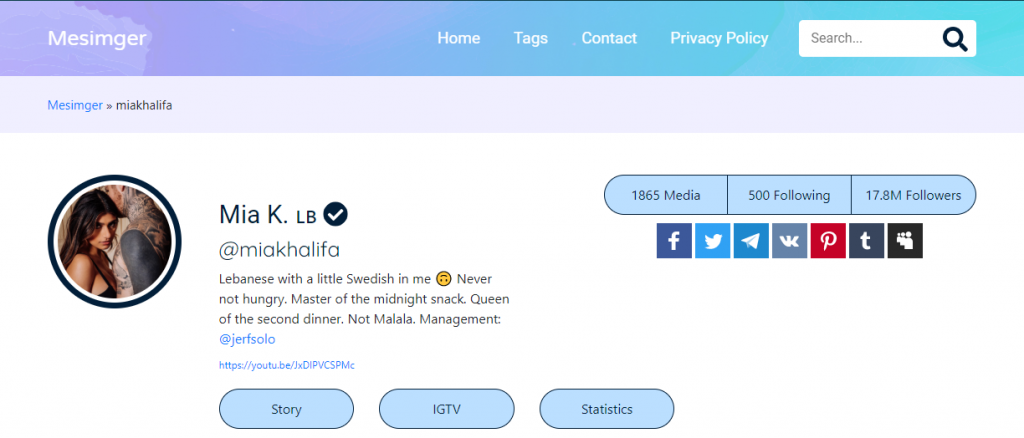 Link: https://mesimger.com/
Instapuma
This Instagram web viewer also looks modern in a pink and blue user interface. Apart from top-ranked users, popular users, media and tags, it includes search functionality that is capable of showing who is not following me back on Instagram as well as who am I not following back on Instagram. But when tested, it didn't seem to work and left a message to try later. If this functionality works, then instapuma is a decent Instagram web viewer. I searched kim kardashian and below is the scrrenshot.

Link: http://www.instapuma.com/
Some other notable free Instagram web viewers are:
INstapm-https://instantpm.net/
WEBSTA – https://websta.me/
Piknu – http://piknu.com/
16 Gram – http://16gram.com/

These are some of the Instagram Web Viewer as third-party services. Many of the web viewers are used as same. You can search for any username or hashtag on it.