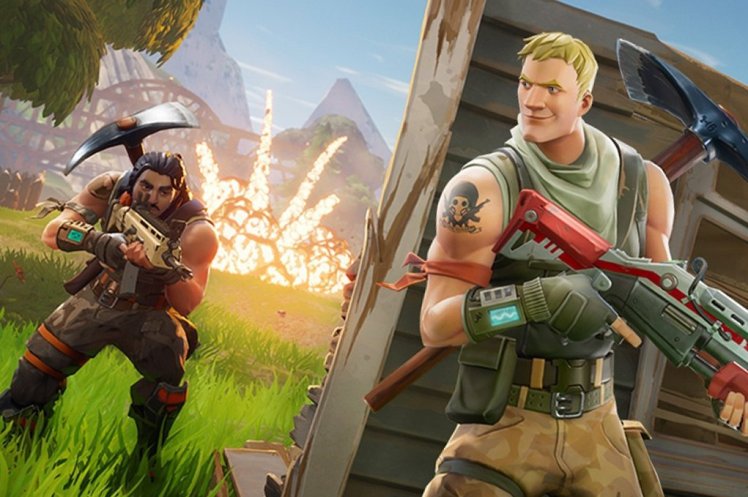 How to play and add friends on Fortnite
Fortnite is a free play survival game set on contemporary earth. It is backed up by unreal engine 4 and is available on Windows, Mac, PlayStation, Xbox, ios and is planned to roll on Android soon. In Fortnite, players can make a team or squad of four players and compete on various missions against another sqauds with randomly generated survival maps. It is a game involving players to gather resources like wood, stones etc and collect weapons and stand till last. You can make forts with wood you gathered for blocking enemies shots and the game is not classical as it might sounds.
Fortnite battle royale starts with a quick demo session where you can test all the controls. It lasts for few seconds and depend upon filling the pool of 100 players. Then you are in a flying bus from where 100 players are dropped. After they have landed on the ground they try to collect resources and try to kill the opponent. It is similar to players unknown battlegrounds (PUBG). The last person or last squad standing wins the Fortnite battle royale. PUBG focus on realistic graphics while Fortnite is fancier with vibrant color pops, cartoonist characters and powers. In Fornite you can fortify and make shields and assist tools from woods while PUBG is purely survival last man standing game.
How to play Fornite
People are curious about how to play Fornite. I am going to simplify the process, keep reading. At the time of writing, Fornite is not available for Android platform.So, Fornite android apk file and Fortnite android signup is not possible.But if you have an ios device like iphone then you can play for free now by using this link. Fortnite
After you have clicked the link next thing is you have to register for an epic games account. The process is fairly simple and the registration page will guide you through this. Verify your email address and you are ready for Fortnite ios signup. As this is the initial phase for ios you have to ask for invitation code and you will be provided with invitation code via email. The first batch of invites for Fortnite mobile game on iOS devices has already been sent.
As a side note, they are many malicious pages on the internet that claim to have Fortnite android apk or Fortnite android free download. Always refer to an official notice from epic games to download Fortnite for android.

How to invite friends on Fortnite mobile
In Fortnite besides playing yourself, you can add three members ie. 4 member squad to your Fortnite squad. For accomplish this, you have three invite codes. You have to send these to friends whom you want to be in your Fortnite squad. You will get a notification popup on the right side of the device screen.
Inviting friends on Fortnite is not as hard as you might think. First, launch Fortnite game and wait for the game to connect to the Fortnite online servers. After the game is connected to servers cliak on the lobby then invite friends.To share the codes tap on share invite code. You have two options to share the invite code. You can directly send the invitation to epic account or via email. After you have send and friends have successfully signed into the game, they are added to your friends list.
Is Fortnite is available on Android?
Fornite android is set to launch after few weeks. Presently it is available on ios via special invitation.
What is Fortnite android alternative?
I cant say which is the best alternative to Fortnite android but PUBG is a way to go. At the time of the writing, PUBG has been rolled to Android devices globally. Initially, it was launched only in Canada. Fortnite android version is expected to have higher system requirements than PUBG.

Is Fornite compatible with my device?
You may have wondered if Fornite for ios and Fortnite android will run smoothly on your device or not. For ios, you must have at least iPhone 6s or iPhone SE. All higher iPhone and iPad are compatible with Fortnite with ios including iPhone 8, iPhone 8 plus, iPhone 6s, iPhone 6s plus,iPhone x s, iPhone x R, iPhone x s max, iPhone 7, iPhone 6s plus, iPad Air 2, iPad Mini 4, iPhone X, iPad Pro, iPad 2017.
Fornite android is not released yet but the list of compatible devices is out. Below are some Android devices that are compatible with Fortnite android:
Huawei p10, Huawei p10 plus, Huawei p10 lite,Google Pixel 2, LG G6, LG V30, Google Pixel XL, Huawei Mate 10, Huawei Mate 10 pro, Huawei Mate 10 lite, Huawei Mate 9, Huawei Mate 9 Pro, Huawei p9, Huawei p9 Lite, Huawei p8 lite.The list will be updated when Fortnite android is available.
How to open chests on Fornite for ios
It is really annoying to have different controls on Fornite mobile. Due to smaller screens, many things have been compromised. Players complain of accidentally firing while opening a chest. We hope Fortnite will enhance controls in further ios update or Fornite android which will be rolled next month. To open a chest or an ammo box you can try going near it and tap it.
How to 50v50 in Fortnite
The 50v50 mode is only available in Battle Royale for ios. To play 50v50 you should go to the Battle Royale lobby and then select the 50v50 playlist. Wait some time for game to make a match with other fellow players and then wait some more for all the players to join the game.

How to cross play on Fortnite
Since latest patch crossplay of Fortnite not straightforward but I will cover the necessary steps to cross play on Fortnite. As there is no login option, the console user need to go to epicgames.com and create an account after launching the game. Choose a new name and type your email. After the account is created successfully, go to the account settings and to connected accounts page. Here you can link your Play Station Number PSN or Xbox account.After the account has been linked, you have to add and accept the friend request of the pc user. There might be need of relaunching game on the Pc side. Next, the PC user can join the console player by selecting join party on the friends list.
Thanks for reading.Feel free to comment or share this article.
You can follow fornite on twitter. Fortnite twitter: https://twitter.com/FortniteGame
Fortnite discord: https://discordapp.com/invite/nhdbr8d
Some popular fortnite reddit (subreddits) and fortnite forums :
https://www.reddit.com/r/FortNiteBR/
https://www.reddit.com/r/FORTnITE/
https://www.reddit.com/r/FortniteCompetitive/